Ideas To Grow Your Makerspace
Last week, the TLC•SmartTECH team hit the road on the first leg of the SmartTECH Roadshow. We visited thriving maker communities in libraries and schools to provide hands-on demonstrations of the STEM and Maker products offered through SmartTECH.
We also had the opportunity to hand-deliver newly arrived Turing Tumble orders while we were on the road. This was perfect timing for libraries like Middletown Free Library in Media, PA, as they were hosting a two-week Coding Camp which featured the Turing Tumble as one of the coding stations.
Taking the time to visit with libraries to better understand your STEM and Maker initiatives, as well as other programming strengths or needs, greatly helps us cultivate premium products and services that make sense for real libraries in real communities like yours.
Additionally, we have the opportunity to share many of the great ideas we gathered while on the road. Here are some of the highlights we discovered along the way to help inspire you in your own library or makerspace. Please feel free to share your thoughts or questions in the comment section below.
Lansdale Public Library
We arrived at Lansdale Public Library in Lansdale, PA just as the skies opened up and the rain became unrelenting. Tom Meyer, the library director we were scheduled to visit, politely ignored our drowned rat appearance as we delivered his Turing Tumbles and set up for our meeting.
There are so many great STEM programs happening at Lansdale Public Library that I could write another whole post on it. So for this quick highlight, I wanted to point out an interesting idea that could be incorporated into libraries without a dedicated makerspace and who rely on multi-purpose meeting rooms: a mobile computer lab.
Pictured on the right is a floor-to-ceiling movable cart with enough All-in-One computers to run a program without needing a designated computer lab. With ease, this cart can be rolled to the multi-purpose meeting room for instant transformation. When not needed, the cart can roll back into a staff area or behind a service desk. Of course, this mobility could also be achieved with a portable laptop charging cart. If you are interested, SmartTECH can provide the tools for either of these options.
I was intrigued by the Turing Tumble during the January webinar, so it was exciting to have it finally delivered last week. The delivery was extra special because the Turing Tumble was delivered in person by Rhia Stark and Susan Rhood from TLC.
Rhia and Susan demonstrated a couple of other neat SmartTECH products like Circuit Scribe and were also interested to learn about the technology programming we offer at Lansdale Library. Sharing ideas like we did during our meeting is what keeps librarianship fun and interesting.
— Tom Meyer, Library Director
Middletown Free Library
Middletown Free Library is the perfect example of what can be accomplished in a small library space. When we arrived, there was hardly a parking spot left — a testament to the busy nature of the modern library.
Inside, we were truly impressed with the open floorplan that still managed to have designated library zones. One side of the library included multi-purpose work tables and a computer commons, with a teen space on the other side, separated by a mini-makerspace (3D printers, wood carving machine, and small butterfly garden).
The first highlight here was the Maker-focused books in the Teen area.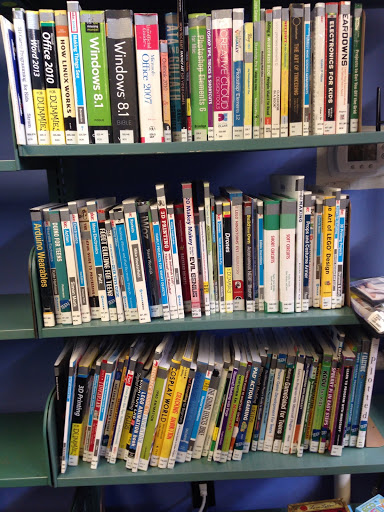 From Windows 8 to Makey Makey and Drones to Cosplay, these STEM and Maker books are topical and convenient for teens at Middletown Free Library. What other topics would you include in your Maker collection?
The second highlight was the Library of Things circulating collection. This is another great idea for a library without a dedicated Makerspace: let your patrons take Maker technology home with them. We recommend using self-contained items like the Circuit Scribe Ultra Kit for easy piece identification upon return. What other non-traditional items does your library circulate?
If your library, school, or museum would like a visit from TLC's SmartTECH Roadshow, or if you're looking for more Maker inspiration, please email me at rstark@tlcdelivers.com. #TLCSmartTECH #haveSTEMwilltravel
Rhia Stark
STEM Specialist